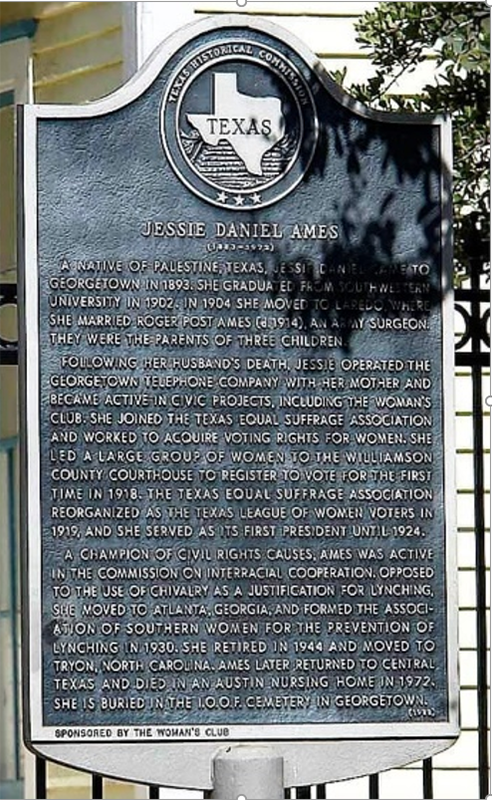 League of Women Voters of Williamson County
100 years ago, the League of Women Voters of Texas (LWVT) was founded. Jessie Daniel Ames of Georgetown served as the LWVT's first president. In September 2019, Williamson County became a LWVT league-at-large. Our first president, Chris Spano, is also from Georgetown and it our intent to lead the LWV legacy into the next century.
During our first year, the LWV Wilco will focus on the following:
Voter registration – registering all eligible voters
Voter education – providing non-partisan information on candidates and legislation
Voter access – providing convenient access to all registered voters
Membership – outreach to Williamson County residents focusing first on the Williamson County seat, Georgetown and building our network outward.
We are delighted to continue the work and legacy of the LWV Texas and Jessie Daniel Ames...
Events and Forum's
Visit our website at www.LWVWilco.org or Facebook or Twitter @LWVWilco for a schedule of events, forums and open meetings.
Contact Us
Become a Member
The League is open to all – men, women and other gender identities; individuals and families; youth through seniors, citizens and non-citizens. Voting members must be at least 16 years of age.
Join LWV Williamson County – Individual $55/year, Family $75/year, Student $5/year.


Open Meetings
The League of Women Voters Williamson County, Texas invites you to join us! We are a non-partisan organization that encourages community engagement and education. Children are welcome at our meetings. For up to date League meeting and event announcements and information, go to our website at www.LWVWilco.org or Facebook or Twitter @LWVWilco. You don't need to have a Facebook account to view our page!
Voter Services
At www.vote411.org, the LWV provides voter services information including voter registration status and polling locations. For spring and fall elections, approximately one week prior to early voting, you can create a personalized ballot to view and compare the candidates' responses to the Voters Guide questions. The site also includes state and national information (debate schedules, etc) and helpful links
Donate
 
Links