The best news of the summer is that Leagues are popping up all over Texas! 
Give a big shout out to the newest League in Texas - LWV Lake Houston! 
More and more communities across Texas now have an organization whose mission is empowering voters and defending democracy. Those communities have access to voter registration activities, the famous nonpartisan Voters Guide, candidate forums, and programs on important issues facing their community. etc.  
Your commitment to protecting democracy in Texas is what makes the League 100 years and going strong!
Please join us at a Regional Training in
Cyp
ress
, 
Wimberly
and
Plano
. 
We are rolling out our census and redistricting strategy for the next year.
Together we can protect and defend our democracy! 
Thank you!
Grace Chimene President League of Women Voters of Texas
League Action on Redistricting
On June 27, 2019, the U.S. Supreme Court ruled in a set of landmark redistricting cases with implications for the future of American democracy. The Court chose not to draw a clear line between a fair district map and one that is too partisan.
Now it is time to work on Legislative solutions to ensure fair maps! The For the People Act would create fair redistricting standards for the entire country. 
Census Action: Join Your Local Complete Count Committees
With less than a year to go before the 2020 Census, cities and counties will be forming Complete Count Committees (CCC) to establish a network of communication throughout the area.  CCC's are not only great ways for Leagues to take part in census outreach, but they also will be a great way to expand your social networks.
Please consider joining your local CCC to make a difference.
LWVTX Summer Regional Training
LWVTX Issue Chair Stephanie Swanson (left), will be the keynote speaker on the Census & Redistricting activities for 2019-2020. Register for a Regional Training near you!
LWV Houston Area VP for Civic Engagement Annie Johnson Benifield was quoted in an excellent article in Texas Public Mediaon the history of voter suppression against African American women in Texas. As we approach the 100 year anniversary of the passage of the 19th Amendment, it is important to note that this was still only one milestone in a longer journey towards full suffrage in the US. A journey that continues to this day.
"Johnson Benifield said she thinks the next 100 years are going to be different than the last. In old photographs from the League of Women Voters a century ago, she sees exclusively white women. But today, Benifield, a woman of color, is a leader there. And that's changing the picture."

Celebrating 100 Years Strong!
On October 19th, the Texas League will be commemorating 100 years of 
"organizing agitating & 
educating" at the 
St. Anthony Hotel
 in San Antonio - where the League was founded on October 19, 1919!
Speakers include: Patricia (Trish) Cunningham Nicholson, the great grandniece of Minnie Fisher Cunningham will speak on the "Power of Women" and Dr. Jessica Brannon-Wranosky, Ph.D.  will address the heroic struggle to achieve full voting rights for all women in Texas.
For information on program ads and commemorations, 
click here
.
LWVTX Awesome Summer Interns!
Guess who is writing the pros & cons for the LWVTX 2019 Constitutional Amendment Voters Guide? These awesome interns: (L to R) Meera Shaw (Yale), Gwyneth Yeager (McCallum HS), Ishani Pandya (U of H), and Rachel Patel (UT).
Working with LWVTX President Grace Chimene, the Center for Public Policy Priorities' E
va DeLuna Castro, and editor/consultant Lanie Tankard, the interns have completed the Voters Guide copy and are now working on videos with information on the proposed amendments.
The interns also had assistance from League mentors and content experts: Miriam Foshay, Jensie Madden, Celia Kaye, Elaine Wiant, Julie Lowenberg, Diann Andy, and Cyndi Jackson.
Great work from an awesome team! Thank you all!
LWVTX Board Nominations Due in October
We are looking for committed candidates who have experience in leadership, business, government, philanthropy or nonprofit work. Creative visionaries and strong leaders should apply
! 
We'll be planning for the next 100 years!
Texas Women and the Vote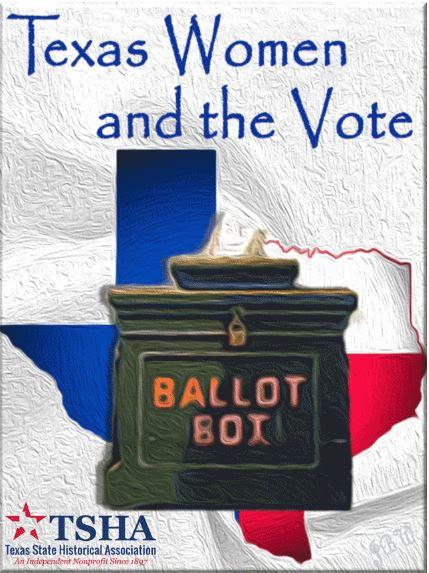 The League of Women Voters of Texas is proud to support the Texas State Historical Association's eBook, 
Texas Women and the Vote.
 The fight for voting rights took the efforts of many diverse organizations and heroic individuals. Suffrage history shows the impact of the power of women in our democracy. Share these great stories with your friends, family, school, and community.
Calendar
July 2019
August 2019
October 2019
November 2019
5 - Texas Constitutional Amendment Election 
April 2020
17 to 19: LWVTX Convention in Austin
June 2020
25-29: LWVUS Convention in Washington DC
League to which this content belongs:
Texas